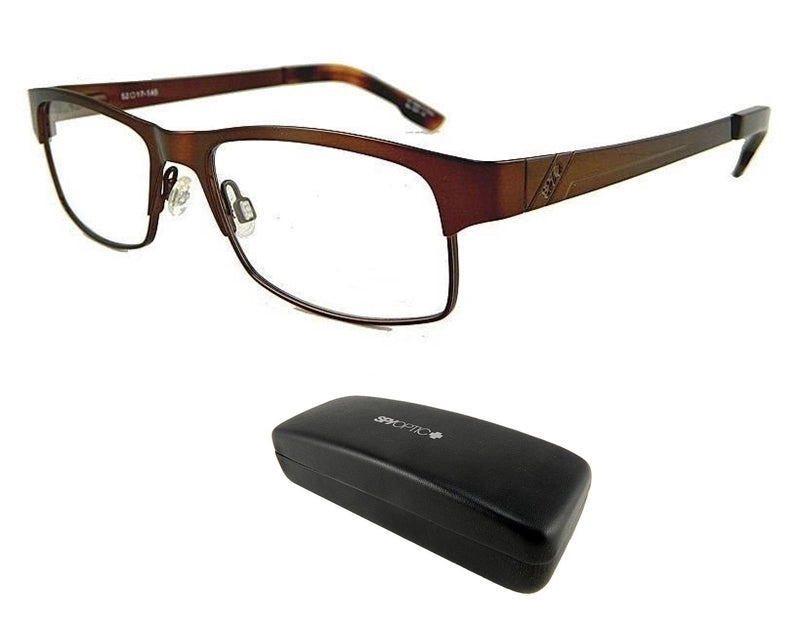 New Spy Optic Miles 52-17-145 Brown Mens Rx Prescription Eyeglass Frames Rt$160

EYEGLASSES: Spy Optic Rx eyeglass frames.
Spy Optic launches its first ophthalmic frame collection, Spy Rx. Targeted to 20 to 50 year-old action sport enthusiasts, the 18-piece collection features clean, modern fronts combined with temples evoking an attitude that is distinctly Spy—fun and irreverent. Finished metals in stainless steel and nickel silver shine alongside rich acetates, which have been fashioned into wearable shapes with a neo-retro feel and excellent fitting properties.
CONDITION: Brand new in unopened retail packaging. These are guaranteed authentic Spy Rx eyeglasses. Hard case included.
RETAIL PRICE: $160.
MODEL: Miles. The Miles is a pair of glasses that will change your outlook on life. The Spy Optic Miles Eyeglasses are inspired by a tooled metal logo and their comfort is based on an anatomic shape and silicone nose pads. A makeup of complete satisfaction thanks to Spy Optic.
COLOR: Chestnut Brown.
SIZE: 52-17-145 (Lens width, bridge width, and temple length). These are medium fit and suitable for most men. You can confirm the size of your current glasses by looking for the sizes stamped on the inside of the temples or nose bridge (if you want a new pair that fits similarly, the lens width should be within 2mm of your current size, bridge width within 1mm, and temple length within 5mm).
LENSES: Glasses come with demo lenses. The 'Spy Optic' logo printed on the outside of the lens can be removed (more info). and you can wear these eyeglasses as a progressive style statement.
Or you can have prescription lenses installed.
FEATURES:
• Premium Materials: Monel metal, Stainless Steel, and Handmade Zyl Acetate materials
• Premium Craftmanship: Quality construction with attention to detail as you would expect from Spy Optic
• Progressive Styling: edgy interpretation on classically cool frame shape, with Spy Optic logo treatments seemlessly integrated
• Silicone nose pads
• 3-barrel stainless steel hinges
• Spring hinges
• Progressive bifocal lens compatible
• Guaranteed authentic Spy Optic. Hard case included.