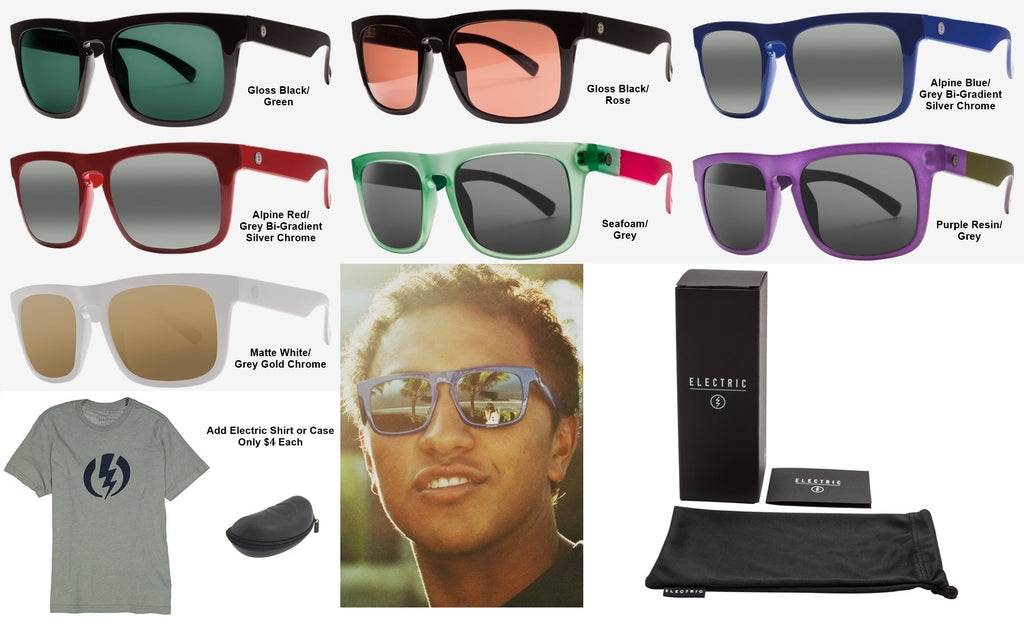 NEW Electric Mainstay Ohm Melanin Lens Square Mens Sunglasses Msrp$100

BRAND: Electric Visual (now Electric California) has been a leading sunglass brand since its inception in 2000. In collaboration with Kip Arnette, Electric has become a global, premium, sport and lifestyle accessory brand rooted in southern California's rich action sports, music, art, and customization culture. Built on the proven strength of the brands California-designed, hand crafted in Italy ethos, the Electric sunglass collection reflects the brand's passion for purity in design and dedication to superior craftsmanship. Electric is worn by pro athletes and artists like Craig Anderson, Kelly Slater, Chris Cole, James Haunt, and Pat Moore and by people like you that desire sunglasses that perform well, are durable, and look cool.
MODEL: Mainstay.
With the Mainstay, you get lightweight sunglasses that are a staple model to the Electric line. The Mainstay is very similar to the Knoxville, one of the most popular sunglasses of all time.
CONDITION: Brand new in unopened retail packaging. These are guaranteed authentic Electric Sunglasses with Electric carry bag, owner's manual, Full LIFETIME Warranty included.
RETAIL PRICE: $100.
COLOR: Choose from remaining available colors using drop down menu.
ELECTRIC PRODUCT CATEGORY: From Electric's Lifestyle Collection: Style isn't fashion. True style is timeless tradition combined with progressive design. At that intersection is where Electric's Lifestyle Collection exists. Featuring pieces that look great, on anyone, are lightweight, and made of the highest possible quality.
SIZE: frame height: 49mm, frame width: 142mm, arm length: 135mm.
COVERAGE: Suggested by Electric as Medium coverage for men with average face size. See images for details.
WEIGHT: 28grams.
FEATURES:
* Durable lightweight 6-base mold-injected grylamid frame allows you to forget you are wearing glasses
* Impact resistant 6-base polycarbonate lens with NEW hard coating for better scratch resistance
* Electric's OHM technology offers Melanin infused lenses for increased performance and protection
* 100% Protection against UVA and up to 98% against UVB rays
* Stainless steel hinge system
* Made in Italy

ADD-IN OPTIONS: Add an Electric sunglasses zippered hard case and/or a Electric shirt for only $4 each. You may choose the options from the drop down menu. Shirts are quality pre-shrunk soft and pliable midweight and tagless with msrp of $22. Include a note with your order or send us an email to let us know which color: Apple (100% cotton), Green (100% cotton), or Grey Heather Blue (50/50 cotton/poly blend) and size (mens): S, M, L, or XL (if you order a shirt and do not leave a note or email we will send the shirt in grey m).